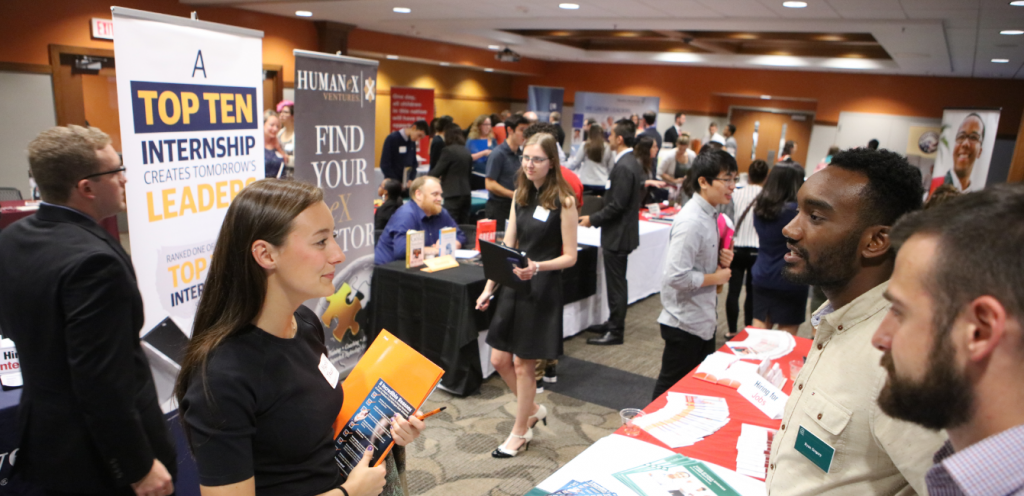 The Recruiting Expo is an evening of employer and graduate school information tables and information sessions located in the Hicks Student Center. Maximize your career fair experience by prepping beforehand.
When asked what's best about the Recruiting Expo, students tell us the most valuable parts are:
Talking to one of the recruiters in-depth about some of the work that the recruiter does.
Getting to talk to employers in various work fields that are not necessarily related to my major.
Practicing my elevator pitch.
2020 Recruiting Expo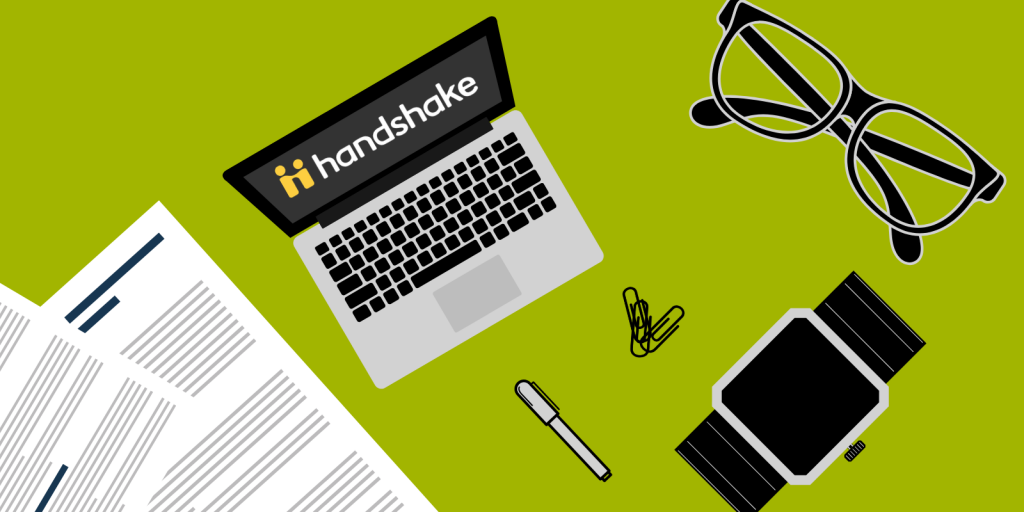 Registration Opening in 2020
Date: Wednesday, October 7, 2020
Time: 3:00 – 6:00 PM
Location: Hicks Student Center
Students may drop by any time and ask quick questions in a "café-style" atmosphere with free food! Dress to impress or show up "as is", bring your student ID for fast sign-in, and consider bringing copies of your resume for employers looking to hire!
Recruiters interested in participating
Recruiters interested in participating in the Recruiting Expo should register through Handshake. We welcome alumni to serve as representatives of their organization by registering and attending the Expo. Registration information coming soon. For other opportunities to recruit K students, please visit the Upcoming Recruiting Events page. For additional resources please visit our Employer Resources.
---
2020 Recruiting Expo
Fall 2020
October 7, 3:00 – 6:00 pm
Information Session
Past Recruiting Expos
Fall 2019
September 25, 3:00 – 6:00 pm
Graduate Schools

Grand Valley State Univeristy

MSU College of Law

MSU School of Human Resources and Labor Relations

Purdue University, The Graduate School

University of Michigan-Ross School of Business, Specialized Master's Program

University of Michigan-School of Education

University of Michigan-School of Public Health

Wayne State University

Western Michigan University

Western Mihcigan Univeristy – Homer Stryker M.D. School of Medicine
Employers

Atomic Object

Bell's Brewery

City of Kalamazoo

City Year

EDUStaff

Helix Scribe Solutions

Hope Network

HUMANeX Ventures

Kalamazoo County Government

Kellogg's

Michigan College Access Network/AdviseMI

Peace Corps

Schuler Scholar Program

ScribeAmerica

Steelcase, Inc.

Stryker

Teach for America

Zhang Financial

Zoetis
Information Session

No Information Sessions offered in Fall 2019
Fall 2018
October 3, 3:00 – 6:00 pm
Graduate Schools

Central Michigan University

Grand Valley State University

Medical College of Wisconsin -Graduate School

Midwestern University

MSU College of Law

MSU School of Human Resources and Labor Relations

University of Michigan School of Education

University of Michigan-Ross School of Business, Specialized Master's Program

University of Michigan School of Public Health

University of Michigan Taubman College of Architecture + Urban Planning

University of Notre Dame Law School

Wayne State University

Western Michigan University

Western Michigan University – School of Public Affairs and Administration

Western Michigan University -Homer Stryker M.D. School of Medicine
Employers

Centria Healthcare

City Year

For Our Future

Greenleaf Trust

Gun Lake Casino

Hope Network -Neuro Rehabilitation

HUMANeX Ventures

Integral Software

iScribeMD

Kalamazoo County Government

Kalamazoo Loaves and Fishes

Kellogg's

Kinexus

Lighthouse Autism Center

Literacy Center of West Michigan

Michigan College Access Network (MCAN)

Michigan State Police

New York Life Insurance Company – Michigan General Office

Peace Corps – Volunteer Recruitment and Selection

Pretty Lake Camp

Schuler Scholar Program

ScribeAmerica

State of Michigan Department of Treasury

Steelcase, Inc.

Stryker

Teach For America

Youth Haven

Zoetis
Information Session

Life After K: A Conversation with Immanuel Greene '16 – 4:30-5:15pm in ICC
Fall 2017
September 27, 3:00 – 6:00 pm
Graduate Schools

Earlham College – Graduate Programs in Education

MSU College of Law

MSU School of Human Resources and Labor Relations

University of Michigan

University of Notre Dame Law School

Wayne State University Law

Western Michigan University
Employers

Advia Credit Union

Aerotek

Aflac

Bronson Healthcare Group

City of Detroit

City Year

Consumers Credit Union

West Side Beer Distributing

Dignity Memorial

Girl Scout Heart of Michigan

Greenleaf Trust

HUMANeX Ventures

Kalamazoo County Government

Kellogg's

Kinexus

KPEP – Kalamazoo Probation Enhancement Program

KSS Enterprises

Lighthouse Autism Center

Literacy Center of West Michigan

Michigan College Access Network/AdviseMI

Modern Woodmen Fraternal Financial

New York Life Insurance

Peace Corps

Prudential Advisors

Samaritas

Schuler Scholar Program

ScribeAmerica

State of Michigan Department of Corrections

State of Michigan State Police

Teach for America

World Financial Group Chicago

Youth Haven

YWCA of Kalamazoo

Zhang Financial
Information Sessions

Peace Corps: Making a Difference Abroad – 4:00-4:00 p.m. in Hicks 111
Pathways to Teaching Careers – 5:00-6:00 p.m. in Hicks 111
Spring 2017
April 11, 3:00 – 6:00 pm
Graduate Schools

Central Michigan University

De Vos Graduate School of Management – Northwood University

Earlham College Master of Arts in Teaching

Illinois Institute of Technology (ITT)

Medical College of Wisconsin

Michigan State University School of Human Resources and Labor Relations

University of Detroit Mercy School of Law

University of Michigan School of Education

University of Michigan School of Public Health

Wayne State University Law School

Western Michigan University Graduate College
Employers

Advia Credit Union

Aerotek, Inc.

Bell's Brewery, Inc.

Bronson Healthcare Group

City Year

Colleagues International

Consumers Credit Union

Greenleaf HospitalityGroup

Greenleaf Trust

HUMANeX Ventures

Kalamazoo County Government

Kalamazoo Probation Enhancement Program

Kalamazoo Public Schools

Lighthouse Autism Center

Literacy Center of West Michigan

Michigan College Access Network (MCAN)

Morgan Stanley Wealth Management

Newmind Group, Inc.

Northwestern Mutual

Peace Corps

Prudential Financial

SalesPage Technologies, LLC

Samaritas

ScribeAmerica

Teach For America

YWCA of Kalamazoo

Zhang Financial
Information Sessions

Peace Corps: Making a Difference Abroad – 3:00-4:00 p.m. in Hicks 111
Gap Year Options – 4:00-5:00 p.m. in Hicks 111
CCPD-Internship Program – 5:00-6:00 p.m. in Hicks 111
Fall 2016
September 28, 4:00 – 7:00 pm
Graduate Schools

Central Michigan University

Earlham College Master of Arts in Teaching

Grand Valley State University

Illinois Institute of Technology (ITT)

Michigan State University College of Law

Michigan State University School of Human Resources and Labor Relations

Notre Dame Law School

University of Detroit Mercy School of Law

University of Michigan Gerald R. Ford School of Public Policy

University of Michigan School of Education

University of Michigan School of Law

University of Michigan School of Natural Resources and the Environment

University of Michigan School of Public Health

Wayne State University Law School

Western Michigan University Graduate College

Western Michigan University School of Medicine
Employers

Aerotek, Inc.

Aflac

American University of the Caribbean

Bell's Brewery, Inc.

Bronson Healthcare Group

City Year

Colleagues International

Consumers Credit Union

Department of Environmental Quality

Greenleaf Hospitality Group

HUMANeX Ventures

iScribeMD

Kalamazoo Cobras Professional Minor League Basketball Team

Kellogg Company

Literacy Center of West Michigan

Modern Woodmen FraternaFinancial

MRC Industries, Inc.

New York Life Insurance Co. and New York Life Securities, LLC

Northwestern Mutual

Peace Corps

Robert Half

SalesPage Technologies, LLC

Schuler Scholar Program

Teach For America

U. S. Department of State
Information Sessions

Understanding Federal Employment – 4:15-5:00 p.m. in Bissell Theatre
A Career in Social Impact: Teach for America – 4:30-5:30 p.m. in Hicks 111
Education and City Year – 5:15-6:00 p.m. in Bissell Theatre
Peace Corps: Making a Difference Abroad – 5:30-6:30 p.m. in Hicks 111
MSU Human Resources and Labor Relations Program 6:15-7:00 p.m. in Bissell Theatre
Spring 2016
April 6, 4:00 – 7:00 pm
Graduate Schools

De Vos Graduate School of Management – Northwood University

Earlham College Master of Arts in Teaching

Indiana Tech Law School

Michigan State University School of Human Resources and Labor Relations

Trine University – School of Graduate Studies

University of Detroit Mercy School of Dentistry

University of Michigan School of Public Health

Western Michigan University Graduate College
Employers

Aerotek, Inc.

Aflac
AmeriCorps NCCC

Auto-Owners Insurance

Bell's Brewery, Inc.

Bhava Communications

C.H. Robinson

Colleagues International

Consumers Credit Union

Girl Scouts Heart of Michigan

Greenleaf Trust

HUMANeX Ventures

IBM

Kalamazoo County Government

Literacy Center of West Michigan

Maestro

Michigan College Access Network (MCAN)

Michigan Department of Environmental Quality

Michigan Republican Party

Modern Woodmen Fraternal Financial

New York Life Insurance Co. and New York Life Securities, LLC

Northwestern Mutual

Peace Corps

Prudential Financial

Repair the World

SalesPage Technologies, LLC

ScribeAmerica

Teach for America

Telamon Corporation
Information Sessions

From Backpacks to Briefcases – 4:30-5:15 p.m. in Hicks 111
Launching Your Career with Peace Corps – 5:30-5:15 p.m. in Hicks 111
AdviseMI: Helping Students Navigate the College Enrollment Process – 5:30-6:15 p.m. in Bissell Theatre
Fall 2015
September 30, 4:00 – 7:00 pm
Graduate Schools

De Vos Graduate School of Management – Northwood University

Grand Valley State University

Indiana Tech Law School

Michigan State University School of Human Resources and Labor Relations

Midwestern University

Notre Dame Law School

University of Detroit Mercy School of Law

University of Michigan School of Public Health

University of Michigan Stephen M. Ross School of Business

University of Michigan Taubman College of Architecture and Urban Planning

University of Toledo College of Law

Vanderbilt Owen Graduate School of Management – Master of Accountancy Program

Wayne State University Law School

Western Michigan University Graduate College

Western Michigan University Homer Stryker M.D. School of Medicine
Employers

Adventure Centre at Pretty Lake Camp

Aerotek, Inc.

AmeriCorps – City Year

Bell's Brewery, Inc.

Bronson Healthcare Group

Colleagues International

Consumers Credit Union

Farmers Insurance Group

Greenleaf Trust

HealthRise Solutions

HUMANeX Ventures

Kalamazoo College Center for Career and Professional Development

Kalamazoo College MJUS Center for Civic Engagement

Lake Michigan Mailers, Inc.

Lucido Morris Wealth Management

Michigan Department of Environmental Quality

Northwestern Mutual

Peace Corps

PNC Bank

Prudential Financial

SalesPage Technologies, LLC

ScribeAmerica

Teach For America
Information Session

Peace Corps: Make a Difference in a Community Abroad – 4:30 – 5:30 PM in Weimer K. Hicks Center, Rm. 111
Spring 2015
April 8, 4:00 – 7:00 pm
Graduate Schools

De Vos Graduate School of Management – Northwood University

Earlham College Master of Arts in Teaching

Indiana Tech Law School

Michigan State University School of Human Resources and Labor Relations

Midwestern University

University of Detroit Mercy School of Law

University of Michigan School of Public Health

Western Michigan University Graduate College
Employers

AmeriCorps – City Year

AmeriCorps NCCC

Bell's Brewery, Inc.

Chemical Bank

Colleagues International

Girl Scouts Heart of Michigan

Greenleaf Trust

Hajoca Corporation

HomeLife, Inc.

HUMANeX Ventures

Kalamazoo Growlers

Kellogg Company

Manpower (Recruiting for Perrigo Company)

Michigan Department of Environmental Quality

MPI Research

New York Life Insurance Co. and New York Life Securities, LLC

Northwestern Mutual

Peace Corps

PNC Bank

SalesPage Technologies, LLC

U. S. Department of State

Western and Southern Financial Group
Information Sessions

Peace Corps: Make a Difference – 4:30-5:30 p.m. in Weimer K. Hicks Center, Rm. 111 A
U.S. Department of State: Careers and Internships – 5:30-6:30 p.m. in Weimer K. Hicks Center, Rm. 111 B
Fall 2014
October 1, 4:00 – 7:00 pm
Graduate Schools

Earlham College Master of Arts in Teaching

Grand Valley State University

University of Detroit Mercy School of Law

University of Michigan School of Education

University of Michigan School of Natural Resources and the Environment

University of Michigan School of Public Health

University of Michigan School of Social Work

Western Michigan University Graduate College
Employers

Abroaders

Across the Pond

ADL Home Care Inc.

Daimler AG – Detroit Diesel

HUMANeX Ventures

Michigan Department of Environmental Quality

New York Life Insurance Company

Northwestern Mutual

Peace Corps

PNC Bank

Prudential Financial

Teach For America

Start writing or type / to choose a block
Information Sessions

Peace Corps:
Make a Difference – 4:30 – 5:30 PM in Weimer K. Hicks Center, Rm. 111 A
Teach for America:
Leading in the Classroom – Choose to Give Kids Opportunity – 5:30 – 6:30 PM in Weimer K. Hicks Center, Rm. 111 B
University of Detroit Mercy School of Law:
Behind the Scenes of Writing an Exceptional Law School Application – 6:30 – 7:15 PM in Weimer K. Hicks Center, Rm. 110
HUMANeX:
Understanding Talent and Its Real-World Application – 6:30 – 7:15 PM in Weimer K. Hicks Center, Rm. 111 A