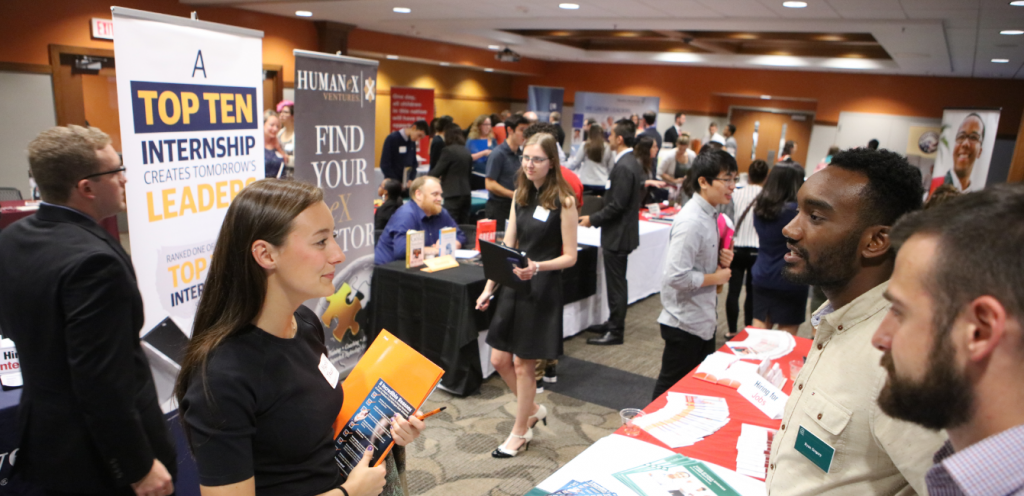 In an effort to better serve our student body and recruiters, we are piloting smaller boutique fairs this year, focused on specific careers and industries of interest to our students. Our first fair will be a virtual fair focusing on careers in and connected to Health & Wellness industries.
CANCELLED – Career Fair: Health & Wellness
Date: Wednesday, September 29, 2021
Time: 3:00 – 6:00 PM
Free Virtual Event in Handshake: https://bit.ly/CFHealthWellness
Join us for Kalamazoo College's Career Fair focused on careers connected to Health & Wellness. This virtual event is an opportunity to network with talented students from all academic disciplines seeking careers in industries related to health and wellness, including:
Biotech & Life Sciences
Government – Local, State & Federal
Healthcare
Medical Devices
NGO
Non-Profit – Other
Pharmaceuticals
Social Assistance
Sports & Leisure
Veterinary
Employers and Graduate/Professional Schools in these fields are invited to meet students through group sessions and/or 10 minute 1:1 meetings through Handshake's virtual fair platform. This event is open to students in all majors and class years and is appropriate for organizations that seek:
Full or Part-Time Hires
Seasonal Staff
Interns
Volunteers
Professional/Graduate School Students
THERE ARE NO FEES TO ATTEND THIS FAIR, HOWEVER, REGISTRATION IS REQUIRED.
Recruiters interested in participating
Recruiters interested in participating in the Recruiting Expo should register through Handshake. We welcome alumni to serve as representatives of their organization by registering and attending the Expo. Registration information coming soon. For other opportunities to recruit K students, please visit the Upcoming Recruiting Events page. For additional resources please visit our Employer Resources.
Please direct any questions about this fair or other opportunities to recruit K students to Valerie Miller at vmiller@kzoo.edu or 269.337.5786.