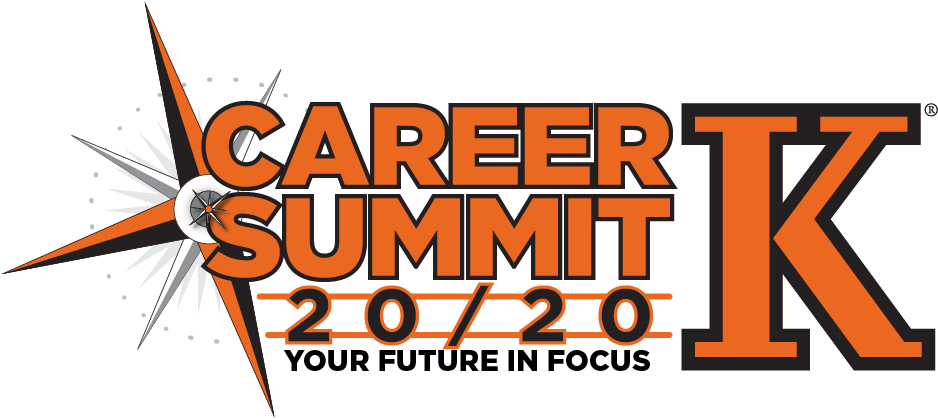 Career Summit 2020 has been canceled due to the COVID-19 pandemic.
The fourth annual Career Summit brings a distinguished group of K alumni to campus for two days of practical preparation for Life after K. Students of all majors and career interests are welcome and encouraged to attend this special event.
Through interactive break-out sessions, themed panel discussions and networking opportunities, students of all majors will gain priceless information about the global job market. This exclusive opportunity to connect with industry leaders takes place at K so as many students as possible may participate.
Schedule
Friday, April 24, 2020:
Getting Clarity: Is a robot going to take my job? (Dinner)
Time: 6:00-8:15 p.m.
Location: Hicks Banquet Hall 
Registration: Required
Can we accurately predict what jobs will be in demand in the next five years? Hardly. So many may not even exist yet. What does that mean for liberal arts grads? Plenty. Hear from panelists about how they use their human skills in their work daily, embracing uncertainty by building upon the skills gained right here at Kalamazoo College. Dress code for dinner is Business Formal (a suit, or a jacket and pants or a dress skirt) Dress Code Guide
Registration required. Student seating begins at 5:50 p.m. Please arrive promptly and be sure to check in; registered students who cancel within 48 hours or fail to attend will incur a $20 charge to their student account.
Sweet Perspectives – Networking Reception (Dessert)
Time: 8:15-9:00 p.m.
Location: Hicks Lower Atrium
Registration: Not required
Talk with Career Summit speakers and other guests about their professional paths and your aspirations for Life after K at this informal networking opportunity. Introduce yourself and ask follow-up questions about speakers' remarks in the opening plenary. No registration required; all are welcome, whether or not you attended the preceding dinner. Note: dinner attendees will be dressed in Business Formal attire (a suit, or a jacket and pants or a dress skirt).
Saturday, April 25, 2020:
Breakfast Buffet
Time: 8:30-9:00 a.m
Location: Hicks Lower Atrium

Fuel up for an amazing day of learning and connecting. You are welcome to bring your breakfast into the banquet hall for the 9:00 a.m. panel. No registration required; open to all who are attending the morning Career Summit events. Saturday dress code is casual, so that everyone can relax and enjoy great conversations in a comfortable setting.
Hindsight is 20/20: Defining Success and Coping with Failure (Breakfast)
Time: 9:00-10:15 a.m.
Location: Hicks Banquet Hall East & Hicks Banquet Hall West
Registration: Not Required
Look back at how our alumni guests navigated from K to their current role. Hear how they have come to define success and cope with failure as they progressed in their careers and in their lives. What might they have done differently? What do they wish they had known before they left K?
Breakout Session 1
Time: 10:30-11:30 a.m.
Location: various locations
Student leaders partnering with Summit speakers will be offering sessions across campus on relevant topics. No need to RSVP. Session titles/locations will be posted below as they are developed.
Focus on Your Interests: Passions to Professions (Lunch)
Time: noon-1:00 p.m.
Location: Hicks Cafeteria
Registration: Not Required
Eat lunch with one of our alumni guests, hosted by students in the dining hall. Meal tickets provided at the entrance. The following alumni will be available:
Breakout Session 2
Time: 2:00-3:00 p.m.
Location: various locations
Student leaders partnering with Summit speakers will be offering sessions across campus on relevant topics. No need to RSVP. Session titles/locations will be posted below as they are developed.
Speakers (confirmed to date)
Managing Director and Global Head of Metals, CME Group
About:

Young-Jin Chang serves as CME Group's Managing Director and Global Head of Metals Products. She is responsible for leading the strategic development, management and profitability of the company's global metals business across all metals complex. She has served in roles of increasing responsibility within the metals business line since joining CME Group in 2011. Young-Jin also serves as CME Group's Diversity and Inclusion Council responsible for forming a structured, company-wide multi-year approach to strengthening CME Group's D&I focus.

Prior to joining the company, Chang was a ferrous alloy trader at the David J. Joseph Company, where she focused on expanding international trading business.

She holds an international MBA in economics and finance from the University of Chicago Booth School of Business. Young-Jin has been named to Crain's Chicago Business 40 under 40 list for 2019, which honors the top leaders in Chicago's major industries who are reinventing what it means to do business in the city.
Program Director of Infectious Disease Initiatives, Georgetown University
About:

Jeffrey S. Crowley, MPH is a Distinguished Scholar and Program Director of Infectious Disease Initiatives at the O'Neill Institute for National and Global Health Law at Georgetown Law. He also serves as an adjunct professor of law.

From 2009 to 2011, he was the Director of the White House Office of National AIDS Policy and Senior Advisor on Disability Policy. As President Obama's chief HIV/AIDS advisor, Mr. Crowley led the development of the first comprehensive National HIV/AIDS Strategy for the United States. He also served on the White House Health Team prior to enactment and during the early implementation of the Affordable Care Act. He also actively engaged in policy development related to Social Security, disability civil rights, LGBT civil rights, Alzheimer's disease, teen pregnancy prevention, and numerous other issues.

From 2000 to 2009, he was a Senior Research Scholar at Georgetown University's Health Policy Institute and subsequent to its founding, a Senior Scholar at the O'Neill Institute focusing his work on improving health care for people with HIV and other disabilities and chronic conditions. Mr. Crowley also served in senior positions at the National Association of People with AIDS from 1994 to 2000. In September 2019, he was appointed to the National Academy of Sciences, Engineering and Medicine Committee on the Prevention and Control of Sexually Transmitted Infections in the United States.

Mr. Crowley received his Master of Public Health from the Johns Hopkins University School of Hygiene and Public Health, and his Bachelor of Arts in Chemistry from Kalamazoo College. He is an alumnus of the United States Peace Corps where he served as a Volunteer/High School Science Teacher in Swaziland.
---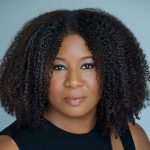 President, Access One Consulting, LLC
About:

Michelle Fanroy is the Founder and President of Access One Consulting, a global strategic corporate mentoring firm. As a leader who focuses on partnerships with corporations around the world, Michelle has a passion for helping organizations positively impact their corporate culture through their most important asset – their people! Personal excellence and a strong commitment to professional leadership development is the cornerstone of both her career and her consulting firm. She embraces her role as a compelling advocate for those individuals seeking opportunities that both enrich their lives and challenge them to become their absolute best.

Over the past two decades, Michelle has partnered with Fortune-ranked corporations in the U.S. and around the world in their efforts to maximize their most important asset — their people! Developing and preparing professionals for the next levels of leadership through strategic corporate mentoring program design, training and implementation has always been Michelle's calling and passion. Personal excellence and a strong commitment to professional leadership development is the cornerstone of both her career and her consulting firm.

Her past and current blue-chip clientele in the U.S. and around the world have included companies such as Hertz Corp, NASA Johnson Space Center, Pitney Bowes, Trinity Health, Saint Elizabeth Healthcare, Nissan Motors, Masco Corp, Sears Holdings Corp, Blue Cross Blue Shield of MI, McCormick &Co, Cardinal Health, and many others and represents industries as diverse as financial services, automotive, information technology, food/beverage, healthcare, manufacturing and pharmaceutical/biotechnology. Michelle has also fostered strategic relationships with thought leaders in the field of Organizational Development and Diversity in order to remain in the forefront of this ever-changing field. In addition to designing successful and sustainable mentoring programs, Michelle is often asked to speak and teach to the constituencies of various employee resource groups across the country to help them better identify the key skills necessary for career advancement.

In addition to establishing her commitment to leadership development, Michelle is dedicated to enriching the lives of the next generation of leaders through her work with high schools, universities and pre-professional organizations where she shares with young adults the leadership skills that are needed to become competitive in today's marketplace. Michelle is a proud graduate of Kalamazoo College with a Bachelor of Arts degree in Economics. She currently lives in southeast Michigan with her husband, Kevin, and dog, Ernie. She is, most importantly, the proud mother of her two greatest achievements, Loren and Maxwell.
AVP, Associate Experience, Diversity and Inclusion, Jackson National Life Insurance Company
Independent Strategist
About:

Dinesh is a seasoned strategist with over twenty years of experience creating brands, experiences and products for such global organizations as Facebook, IBM, Google, Netflix, Ford, Target and BMW. Dinesh is currently Principal of System & Story, a consulting firm that helps organizations bring clarity and perspective to complex brand, digital and organizational questions. Dinesh also serves on the board of Openlands, and has acted as an advisor to the Chicago Community Trust, the Chicago Humanities Festival and the Forest Preserves of Cook County, among other non-profits. Dinesh has lectured on innovation and design thinking at the School of the Art Institute of Chicago, Pratt School of Design in New York, the Haas School of Business at UC Berkeley, and his graduate alma mater, the Institute of Design, Illinois Institute of Technology. He and his wife live in the Andersonville neighborhood of Chicago.
Nicholas Helmstetter '10
Meds-Peds Physician, Faculty, WMU Homer Stryker MD School of Medicine
About:

Nicholas Helmstetter, MD, is a Med-Peds physician in Kalamazoo. He is a 2010 K alumnus, where he majored in biology, played football, and studied abroad in Madrid, Spain. He graduated magna cum laude and was inducted into the Phi Beta Kappa honor society. He earned his medical degree from Wayne State University School of Medicine in Detroit, Michigan, in 2014, where he graduated with high distinction and was inducted into the Alpha Omega Alpha honor society. He completed his combined internal medicine and pediatrics residency training at Michigan Medicine in Ann Arbor, before joining the Med-Peds faculty at Western Michigan University Homer Stryker MD School of Medicine. He holds dual appointments as assistant professor in the departments of internal medicine as well as pediatrics and adolescent medicine. He teaches medical students and resident physicians at the medical school, WMed Health, Borgess and Bronson hospitals where he also cares for patients.
CEO, MI Chapter of Alzheimer's Association
Bureau Chief; Correspondent, Knight Ridder Newspapers; Boston Globe
About:

MARK McDONALD is a veteran reporter, editor and foreign correspondent. He has worked for the International Herald Tribune, The New York Times, Knight Ridder Newspapers, the Los Angeles Times, the Dallas Morning News and Boston Globe. He has been based in Paris, Hanoi, Moscow, Seoul and Hong Kong.

Mark has reported on a dozen wars and conflicts, including embedded and unilateral assignments in Iraq, Afghanistan, Chechnya, Cambodia, Sri Lanka, East Timor, Myanmar and Indonesia. He has covered nine Olympic Games and was formerly the Sportswriter of the Year in Texas. He was on a team that went on to win a Pulitzer Prize in International Reporting and was part of The New York Times team that covered the 2011 Fukushima nuclear catastrophe.

Mark received the Knight Fellowship in International Business at the University of Michigan in 1996-97. From 2005-2007, while recovering from injuries suffered in Afghanistan, he was the Marsh Professor of Journalism at Michigan. In 2015 he published his first work of literary fiction, 'Off the X,' a novel based on his experiences in the Iraq War.

Mark's sports journalism, foreign reporting, essays and photography have appeared in a number of magazines, collections and nonfiction books. At the IHT and the Times he won several Publisher's Awards, Human Rights Press awards and the 2009 Osborn Elliott Prize for Excellence in Journalism from the Asia Society. He has won a Dallas Press Club Katie Award, various APME, APSE and GLAAD awards, and the Charles Green Headliner Award.

Mark earned a B.A. in political science from Kalamazoo College and did his international study at the University of Ibadan in Nigeria. He holds diplomas from the Monterey Language Institute (Vietnamese) and the Lomonosov Moscow State University (Russian).
Vice President, Community Health, Equity & Inclusion, Bronson Healthcare
About:

Beth Washington is a Kalamazoo native. She is a graduate of Kalamazoo Central and Kalamazoo College with degrees in Human Resources and Relations and a Secondary Teaching Certificate in all Social Studies subject and English. She worked as an educator for 18 years, teaching in Niles Community Schools, Holland West Ottawa Public School and in Kalamazoo Public Schools. During her time as an educator, she was recognized as a Teacher Leader and awarded Teacher of the Year in her field, Social Studies and English, by the Historical Society of Michigan.
Beth came to Bronson in 2015 after serving as Director of Derek Jeter's Turn 2 Foundation's Jeter's Leaders. She currently serves as Director of Community Health, Equity and Inclusion. Her work is to dismantle the structures that create barriers to all people living a safe, equitable, and fulfilling life. She has developed and implemented a strategic plan to combat institutional health inequities. She has improved and expanded the delivery of language services across the system for non-English speakers; increased the active participation of Bronson in collective impact projects and was part of the collaborative team that "Banned the Box" from the Bronson application process. Her and her team continue to develop and implement innovative cultural competency education, including being Qualified Administrators of the Intercultural Developmental Inventory. Her team has provided education to almost half of their 9,000 employee workforce.
Beth's work also extends into the community. She is a Kalamazoo College Trustee and serves on the Urban Alliance Board and the KVCC Groves Advisory Board. She is a member of the steering committees for Southwest Michigan Perinatal Quality Improvement Collaborative and Cradle Kalamazoo. In 2018, she has provided diversity, equity and inclusion education to over 1100 people in our region.
Beth is married to Von Washington Jr. Executive Director Community Relations for the Kalamazoo Promise. Beth is the mother Von III, Director of Men's Basketball Operations for Western Illinois University and Adonne, law student and Howard Law School, Washington, D.C.